After seeing so many of the blogs i follow taking part in this challenge thought it was time to pay them a visit and see what the excitement was about.
Over at Twinkle Twinkle Like A Star blog page i found this page which gives you all the information you need if you wish to participate in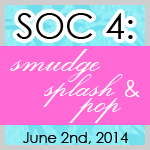 The colours this week are
Aqua Blue & Yellow
With a Smudge, Splash or Pop of Hot Pink.
Seeing as i am not a lover of either yellow or pink this challenge is good for me as it will make me use colours i find difficult.
Used a book page as the background to the journal page, Portfolio Pastels to create the circles and dots, a Uni Pin pen to highlight areas, Rainbow Glaze to add a little dimension to the pink circles and the pink flower.
Love Posca Pens, their colours are so vibrant yet can be watered down to produce a lovely wash, here i chose to use them as they come out of the pen, the yellow on the dots is very bright.
Used Andy Skinner stencil Hippy chick and turquoise shade Pan Pastels to add the female shape,a black glitter frame to show off the flower and some hot pink washi tape which was given to my by the lovely Keren Baker,thank you Keren!
Hoping you like this entry into Week One of this fabulous challenge, hope to see you there sometime.
Thanks for dropping by.
xxx